Wake up!
Missiles are crossing the sky
You never thought this day would really come
Better seek shelter in hell
Than try escape from insanity
No Future
Annihilation is a profit
Wretched
Apocalypse is not a prophecy
Prepare for Toxic Death!
Prepare for Toxic Death!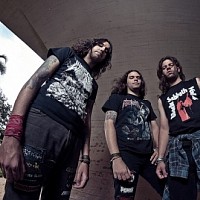 Gasp!
The Eyes are burning in pain
When the air becomes your enemy?
Acid runs in your veins
Infected by a lethal plague
Slow Death
While militaries are laughing
Human Waste
Bullets can't feed the survivals (of the war)
A force no one control
A way to total end - Chemical
A power to splinter the world
A desert whose bloods sand - Chemical Assault!