Welcome to a cult that is none
In this thought-world of disorder
No one does belong in here
With me this fucking hell to share
Now the night grows endless
Unbareable and cold
Moonlight tears dark clouds above to Wired flesh of white spawned life unfold
[Refrain:]
You never get to know
What it meant for me
What it meant to be
The opposite - enemy
You never get to know
What it meant for me
What it meant to be
The opposite - The enemy!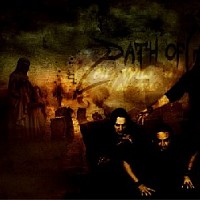 At night it came - like a feeble embrace
And tumoured flesh and spirit with a plaguish idea
Deformed and wild- a two-headed child
Aborted to reality in spasm and in heresy
Cries
Breathing in lungs
A heartthrob undone
Shall rise in revolt
Of man-machine so bare and cold
Forwards marching a curse of lepers
Leeching at the planet's veins
Midair winds of foul miscarriage
Keep prowling (and) howling of your fate
Degenerated to this life abortion- Back to this world of uncreation
We stand here, smiling, patient, waiting- watch the painful intential bleeding
...cold blood seething
...waiting for eclipse
A fast-forward start starts now rewinding aeons
The beginning of an end moon shadows have unveiled to holocaust
A bionic chimera prowls the thousand ruins of industry
Fighting and defleshing all the poor ones to resist
Opening a gate to hell we all are drowning deep into
Listen to the thundrous cries of decades in abyss-
Bibles bleed of their sick quotation
Midst the ravening pulse of toxic detonation
Heed the psalm of amokoronation
- Uncreation!
I can see it
You will feel it
I must bleed it
- Uncreation!
Eager comes what stays for long
Ebonize a world gone wrong
Septic tongues perceive this pain
Cheer arsen in bright amphores
Fuck their hopes and then again
Shipwrecks a shade on dying shores
That night it came like a feeble embrace
And tumoured flesh and spirit with a plaguish idea
Deformed and wild- a two-headed child
Aborted to reality in spasm and in heresy
Cries