Once and for all the oracle has been spoken.
All must be judged and this punishment is equal.
Rebels, Holy wolf tribes, rise and howl in triumph.
Heroes, thou converted, betray the world oppressor.
Tremble, cry or bow. Behold this great miracle.
A universal chaos. The last chanting salvation.
Nothing more can grow here neither fade away.
Here the flourish echoes through the macro cosmos.
Free all in perdition. An ending equilibrium - global pandemonium.
Dixi et salvavi animam meam. Salve Satanas!
Break the chains and taste the forbidden fruit of freedom.
See how all thy guilt now is falling from thy shoulders.
Barriers of dogmas become fragments of delusions.
Righteousness and obedience are heresies for this discipline.
No one can imagine this sinister, terrible liturgy.
So, let this hymn foretell and be a symbolical purgatory.
Values falls with axioms and man will fall with moral.
Feel this incarnation grow through the micro cosmos.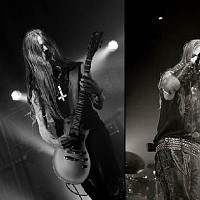 De profundis. Est deus in nobis!