May there be light and martyrdom shalt solve all sin.
Ten laws of guilt and shame - the essence of the world doctrine.
Grant us thy Holy grace and Chaos may rise again.
Nine steps of pain and scorn - we climb towards utopian reign.
Hark Holy father, thy flock transcends into wolves.
O, curse my redemption pater peccavi.
Thou of enlightenment I beg thee rise in pride.
Sons of damnation - Pereat!
Let there be silence and throw dead meat upon the One.
Eleven slaves of hypocrisy, the loyal victims serve their Lord.
Shine thy almighty, and clarity must obsess the mob.
Thousands of unique souls may present the chaotic coming reign.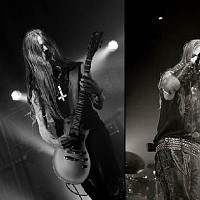 Where is thy moral when God will resolve all through nihilism?
See that as a sign of freedom or succumb to all false promises.