In all man's heart that belongs to God, rules fear, hunger and death.
Procreated by worry and death from the voices in heaven.
The circle closes when the universe spirits the earth to forget and hide.
When the earth answers the exhortation all shall be inherited by death!
Witness the hailstorm of snakes, scorpions and poisonous arrows.
Hear the roaring of thunder and see the lightning strike the soil.
The last rite is made with fire and smoke and the stench of rotten corpses.
The entire creation will be moulded again and the world will change!
This is how far death will manifest, to show it's true face for humanity.
With haste winds epidemic appears in the lands of thy God...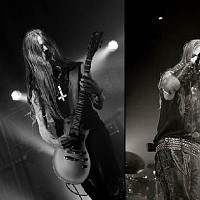 Heathen survivors struggle to the wall of the city - in their quest for conversion
- Their eyes are met with the corpses of God's lamb.