I'm getting sick an tired of what they show on MTV,
gay or multicultural crap but nothing's on for me
The leftwing music industry doesn't care if you are white,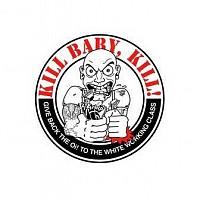 so we formed a band to make a stand and try to turn the tide
We play white Rock'n'Roll - the voice of Europe's sons!
We're just a band that makes a stand - about what's going on!
White Skinhead Rock'n'Roll - we're rocking for our land!
We won't be on MTV - 'cause we're already banned!
We don't play the mainstream shit, don't ask the answer is NO
We don't play Hip-Hop music - to the Disco's we don't go
To all who've got a problem with the fact that we ain't red,
don't listen to our music and go fuck yourself instead
Never underestimate the power of a song,
MTV is brainwashing our kids for far too long
Can't you see that Rock'n'Roll can be our people's voice,
tell our youth the fucking truth - just by making noise Oi! Oi!