You think "I'm sorry" would wipe off your guilt
All your use all the pain that you've caused inside me
I hate that scent that once made me so weak
Now it hurts, makes me sick as I force me to bleed
I chose the hard way to pay for my acts, what a pitiful being you are!
You know forgiveness is something you earn,
What you gain through your suffering hell !
Suffer and hurt!
Now get off my back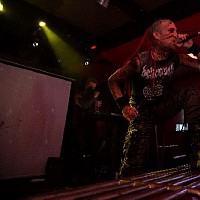 You fuckin' bitch watch me tearing off my skin 'till I get rid of your smell
Removing scars and removing your scent,
Once for all 'till I get to be reborn.
I count the days I am facing my fears 'till
I break free from my self This cell can't hold me, can't face my screams
One of us will stay and of one of us will go