Tell me why? Tell me why? Tell me nani ga boku o
Konna ni nayamasete iru no ka wakaranai kedo
EASY WALK ima wa aserazu aruite kou
Keep walkin' Just keep walkin' Step by step!
Nattara natta de betsuni nanto demo naru mondai nee
Sore wa sono toki ni natte kangaete ima o shinji naki ya mottai nee
Yaru mae ni arekore ki o momu yori yatte kita koto ni omoki o oki
Toki ni wa omoikomi mo aridashi ato wa dashi oshimi sezuka masu nomi
Ukishizumi mo aru kedo hibi waraitobashite ikou omoidoori
Ikanai hi no hou ga kitto ooi sonna yononaka dakara
So take your time aserazu ikouze seiippai jibun o rikai shite
Nayami mo chikara ni kaete Keep walking my way!!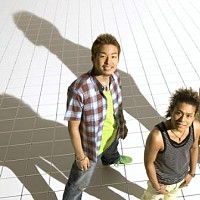 Yatara nayande yoru mo netsukezu negaeri Night and day
Marude ore dake ga zento tanande... nante omotte cha taman nee!
Jitsu wa minna sonna kawannai no "nai mononedari" ya "fukainai" o
Kanji nagara sorenari ni mae o muite kyou yori ashita o negau yo
Nani ga shitai no ka? nani ga dekiru ka?
Nani ga mune o shimetsukete iru no ka?
Jidanda fun de chou nayanda demo sore ga seichou no akashi nanda
It's alright kinaga ni ikouze shinpainai asu wa akarui tte
Kata no chikara mo nuite
Keep walking my way!
Hitori kiri no yoru ni
Sotto jibun no kata o idaite mitari
Hitoshikiri naita hi ni
Hotto hitoiki tsuite onaka hettari
Hitomishiri datte iu no ni
Hotto kareru to chotto sunete mitari
Hitogomi no naka demo ga kinagara
Mina hisshi no omoi de ikite iru
Boku mo sou kitto kimi mo sou
Nan sen nen mo mae kara zutto kizuiteru
[Repeat *]
EASY WALK Easy go tanjun meikai Make it simple
Sonna ni muzukashiku kangae nakute mo ii ze
Itsuka kizukou sore made no shinbou
Keep walkin' Just keep walkin' Step by step!!
Everyday, every night just keep walkin'
Norari kurari hi ga noboru made
Everyday, every night just keep walkin'
Norari kurari ikeru tokoro made [X2]

Nezaradené do albumu