We are the future,
If you don't get the point
You might get left behind
Stand close to me,
You look for answers
That you can't seem to find
(Chorus)
Over & over,
Forced upon to live or die
One & only
Forced us, are pressures of life.
The future is now,
The future is now,
YES NOW!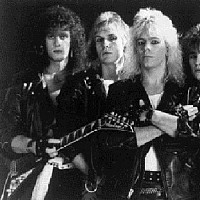 Can you hear me callin'?
I'm callin' out to you,
Can you hear me scream?
Society is falling
The streets are running wild
Please stop me now
Again & again, you can't stop us now
Right from wrong, always the same
Excuses now scar my mind.
Can you hear me callin'?
I'm callin' out to you,
Can you hear me scream?
Society is falling
Nothing is left between you & me