Embrace the innocence of this childhood fantasy.
Awake, awake, awake, the secret stirs inside starts to shake.
Time to get this off my chest, been ten years I need rest.
A whisper in the wind, I see angels.
Like lightning in a storm, I see angels.
Take my hand, grasp this chance, lose control.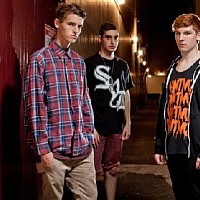 Hearts ablaze, won't erase these thoughts and feelings from within.
Turn this page, fall like rain, wash me white as snow.
Climb the mountains high where angels soar,
Burn the gates down where the demons roar.
Hear their song, guide me on.
I'm in awe, heed the call.
I know what I saw.
Ever more: angels soar.