Running for years now
With only one dream, make metal!
Our chance finally rose
To make the earth shake.
We ride
We rock
We scream
Warriors 'round the world have chosen right
Hit the battlefront
Raise your axes high
Let their nightmare begin.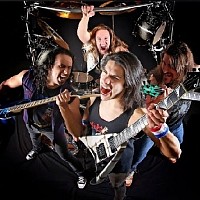 We are brothers of steel
Carry our father's dreams
Together as one
We march on with heavy metal power
In the end you must stand the test of time
Your hearts must stay true!