EEelke Kleijn
- texty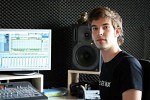 texty piesní

playlist

fotky

koncerty
Eelke Kleijn is a Dutch producer and DJ hailing from Rotterdam, the Netherlands. He is known mostly for his electronic dance music, but nowadays also produces music for other media, such as television series, commercials, movie trailers and animations.


Naturally Artificial
(2007)
Video
Preklad
Karaoke
Zobrazené
Ondine

15
Zeitgeist

13
Drama Queen

17
Prehrať celý album
Eelke Kleijn ešte nemá žiadneho správcu. Ak sa ním chceš stať, tak napíš. Správca môže zaraďovať piesne do albumov a robiť tu poriadok. Texty piesní, preklady a videoklipy sú vkladané registrovanými užívateľmi.